An Overview of Vaccine Injury Compensation Programs
Ève Dubé, Dominique Gagnon, Noni MacDonald, Shawn H.E. Harmon, Sandani Hapuhennedige
In Canada, only the province of Quebec has a vaccine injury compensation program. What are the rationales behind these policies and how are they functioning? This CANVax in Brief provides an overview.
Vaccines are amongst the most effective and safe tools. Yet, vaccines – like any medical intervention – are not 100% safe. Most adverse events following immunization (AEFIs) are mild, resolve quickly and completely (e.g., fever, swelling at the injection site, rashes, etc.). In rare instances, however, serious adverse events can occur regardless of proper design, manufacture and delivery.1 A serious AEFI following immunization is defined as one that is life-threatening, requires in-patient hospitalization or prolongation of existing hospitalization, results in persistent or significant disability/incapacity, or is a congenital anomaly/birth defect.2 The absolute risk of serious AEFIs is extremely low (e.g., less than 1 per 10 million doses for tetanus toxoid vaccines, 1-2 per 1 million doses for the inactivated influenza vaccine).3 At a population level, these rare risks are far outweighed by the benefits of high uptake of vaccination. However, this implies that, in rare instances, an individual will suffer from significant consequences for the benefit of others, and that such an event can be anticipated (expected, even), though not necessarily predicted at the individual level.1
The above state of affairs begs the question: What are the roles and responsibilities of jurisdictions vis-à-vis for those who experience a "vaccine injury" (i.e., a serious AEFI) when given a vaccine recommended by public health? As argued by Halabi and Omer, there are 3 types of approaches toward AEFIs. Individuals who experience an AEFI may: 1) bear the costs associated with their injuries by themselves; 2) seek compensation through litigation against private-sector actors (i.e., the vaccine manufacturers); or 3) seek compensation from publicly supported systems, or Vaccine Injury Compensation Programs (VIC Programs).3 A recent review has shown that compensation programs have been implemented in 19 jurisdictions worldwide. Interestingly, twelve of the jurisdictions with such programs have no vaccine mandates (Table 1).4
Table 1. Jurisdictions with VIC Programs (including the year of introduction)


VIC Programs are 'no-fault' compensation schemes in which governments compensate individuals who are harmed by properly manufactured vaccines.3 There is considerable variability in how these programs are administered, in who is eligible and which vaccines are covered, in the decision-making process for administration, and in how funds are sourced and allocated.5 Looker and Kelly have conducted an extensive review on common program elements (Table 2).
Table 2. Common Elements in VIC Programs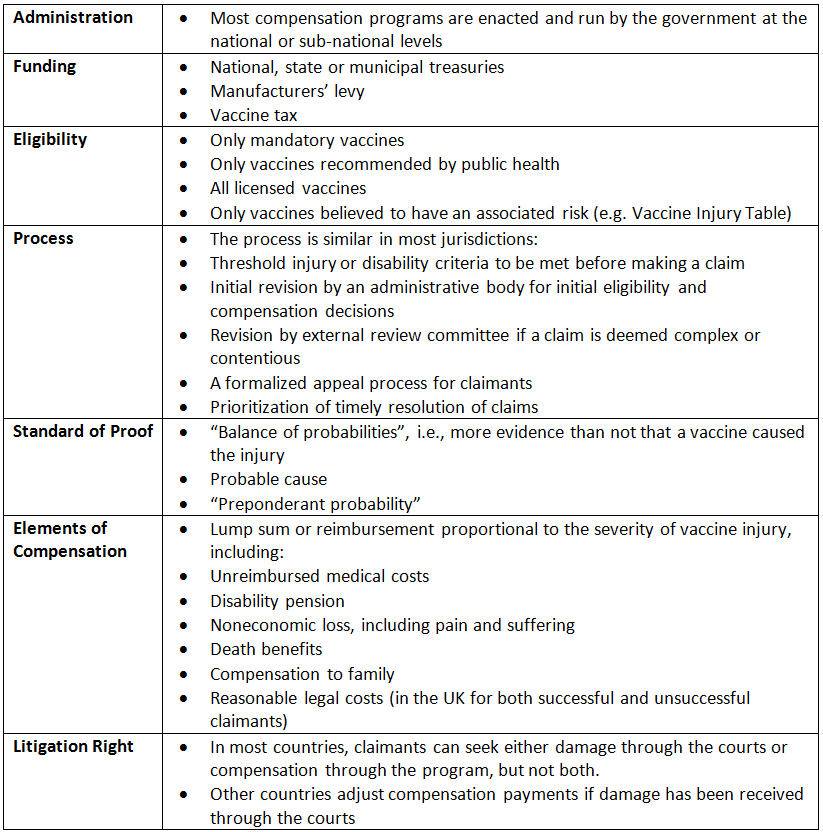 In Canada, only Quebec has a VIC Program (Box 1). In other provinces and territories, any major health care costs from vaccine injury are covered through the public health care system, and if a disability occurs, support would likely come from disability incomes. The only means for compensation beyond this is through litigation, but we have a limited understanding of the number and scope of vaccine-injury related lawsuits in Canada.5 We do know that very few cases reach the courts, and these are often in relation to procedural matters, not the merits of the cases (i.e., requests for certification as class actions, requests to have claims struck, etc.).6 One exception is Morgan v. City of Toronto,7 wherein the plaintiff sued the City of Toronto for damages stemming from chronic fatigue syndrome which she alleged resulted from the City's negligent administration of hepatitis B vaccine in 1994. In dismissing the claim, the Court held that, while the standard for disclosure of risks is very high, not every suspicion of risk constitutes a "known" or "material" risk, and that the City did not breach the standard in failing to warn the plaintiff about possible effects that were not, at the time of the inoculation, considered material. Note that many more cases are adjudicated through bodies like Workers' Compensation Tribunals, Workplace Safety and Insurance Appeals Tribunals, and the like, but no comprehensive survey of the outcomes of these cases have been conducted.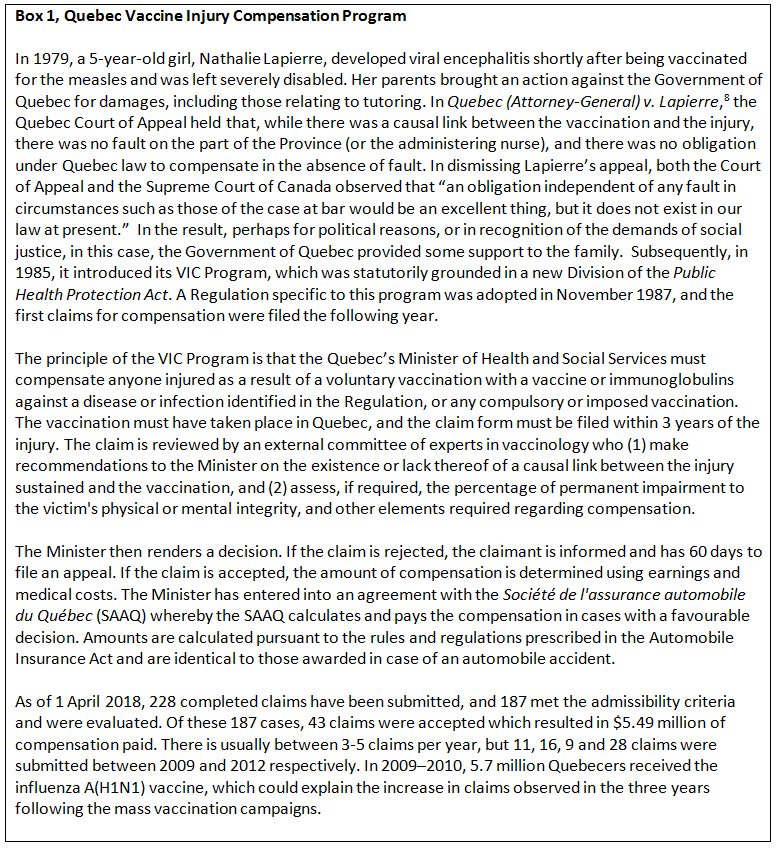 The reasons why jurisdictions have implemented VIC Programs are diverse. As noted by Looker and Kelly, these programs often arise from political and economic pressures, litigation threats, and the imperative to ensure an ongoing vaccine supply.4, 5 Generally, there are biological, ethical, legal and practical arguments supporting the implementation of VIC Programs.9
Biological: Vaccinations are extremely safe, but the possibility of harm in rare instances exists and has been recognized (e.g., anaphylaxis, intussusception from a rotavirus vaccine no longer used).
Ethical: Vaccination benefits not only the vaccinated individual, but the whole community through herd immunity. Ethical principles of solidarity, reciprocity, fairness, and justice all support the implementation of measures to compensate the few individuals who will be harmed by vaccines. These arguments are stronger in instances where governments use mandatory policies to ensure widespread vaccination.
Legal: We have developed a rights-based society where everyone's physical integrity is, in some measure, guaranteed, and where incursions against this integrity give rise to justifiable claims for redress.
Practical: Tort litigation relating to AEFIs (and generally) is costly and uncertain, and exposure to this uncertainty and potential liability can discourage manufacturers from producing vaccines. VIC Programs remove the uncertainty of litigation for manufacturers and ensure the security of vaccine supply. They also help to forge an environment in which vaccine innovation can occur.
Arguments against VIC Programs are often grounded on the costs of these programs, the difficulties with causality assessment (i.e., determining whether there is a causal relationship between a vaccine and a specific injury), and the concern that these programs can decrease public trust in vaccines and fuel anti-vaccination movements.4 To date, there is insufficient empirical evidence to assess whether the latter concern is justifiable. There is also no evidence to show that having VIC Programs supports vaccine acceptance; absence of a VIC Program has not been identified as a major concern amongst those who are hesitant. However, the experience in the 19 jurisdictions where such programs are implemented indicates that costs are both manageable and predictable.6 One caveat that must not be ignored is that 17 of these 19 countries are high-income countries, which means that, on the whole, they can bear the costs, have the capacity to manage the program, and have the expertise to assess vaccine quality and causality of injuries.
In conclusion, despite the strong public health ethical justification for the implementation of VIC Programs, and the long (and successful) track record in Quebec, no other jurisdiction in Canada has such a program. If and when other provinces and territories in Canada consider such programs, it cannot be because such a program may improve vaccine acceptance, but rather because it is an ethically, legally, and practically good policy action with sound social benefits.
---
References
Looker C, Kelly H. No-fault compensation following adverse events attributed to vaccination: a review of international programmes. Bulletin of the World Health Organization. 2011;89(5):371-8.
World Health Organization. Global Manual on Surveillance of Adverse Events Following Immunization. Available online: https://www.who.int/vaccine_safety/publications/Global_Manual_revised_12102015.pdf?ua=1. (Accessed on May 15, 2019). 2014 (Revised 2016).
Halabi SF, Omer SB. A Global Vaccine Injury Compensation System. Jama. 2017;317(5):471-2.
Attwell K, Drislane S, Leask J. Mandatory vaccination and no fault vaccine injury compensation schemes: An identification of country-level policies. Vaccine. 2019;37(21):2843-8.
Hapuhennedige S, Nisbet C. A scoping review on vaccine injury compensation. Understanding Canadian Immunization Policy. Background Paper. Simcoe Muskoka District Health Unit. 2017. p. 40.
See Adam, Abudu v. Ledesma-Cadhit et al., 2014 ONSC 5726; Batten v. Boehringer Ingelheim (Canada) Ltd., 2017 ONSC 53; Re Tluchak Estate, 2018 SKQB 311.
2006 CanLII 41574 (ON SC).
(1983) 7 DLR (4th) 37 (QC CA), affirmed in Lapierre v. A.G. (Quebec), [1985] 1 SCR 241.
Wilson K, Keelan J. The case for a vaccine injury compensation program for Canada. Canadian journal of public health = Revue canadienne de sante publique. 2012;103(2):122-4.